welcome
A hidden inn with a spectacular view of the valley.
Yunokami Onsen, a therapeutic hot spring in Minami Aizu, has been busy since the Edo period.
Along the magnificent valley through which the Ookawa River (Agawa River) flows, there is a hidden inn "Touryukan" with only 12 rooms.
All rooms are equipped with hot spring baths that pour hot spring water from the source.
Private open-air baths and large baths with a spectacular view to enjoy the hot spring water from the source along with the spectacular view of the valley.
Sake and exceptional Japanese cuisine carefully selected by a sake master.
We sincerely look forward to welcoming you to our "Kacho Hanayaka fugetsu no Yado" where you can spend a special time in the beautiful natural surroundings.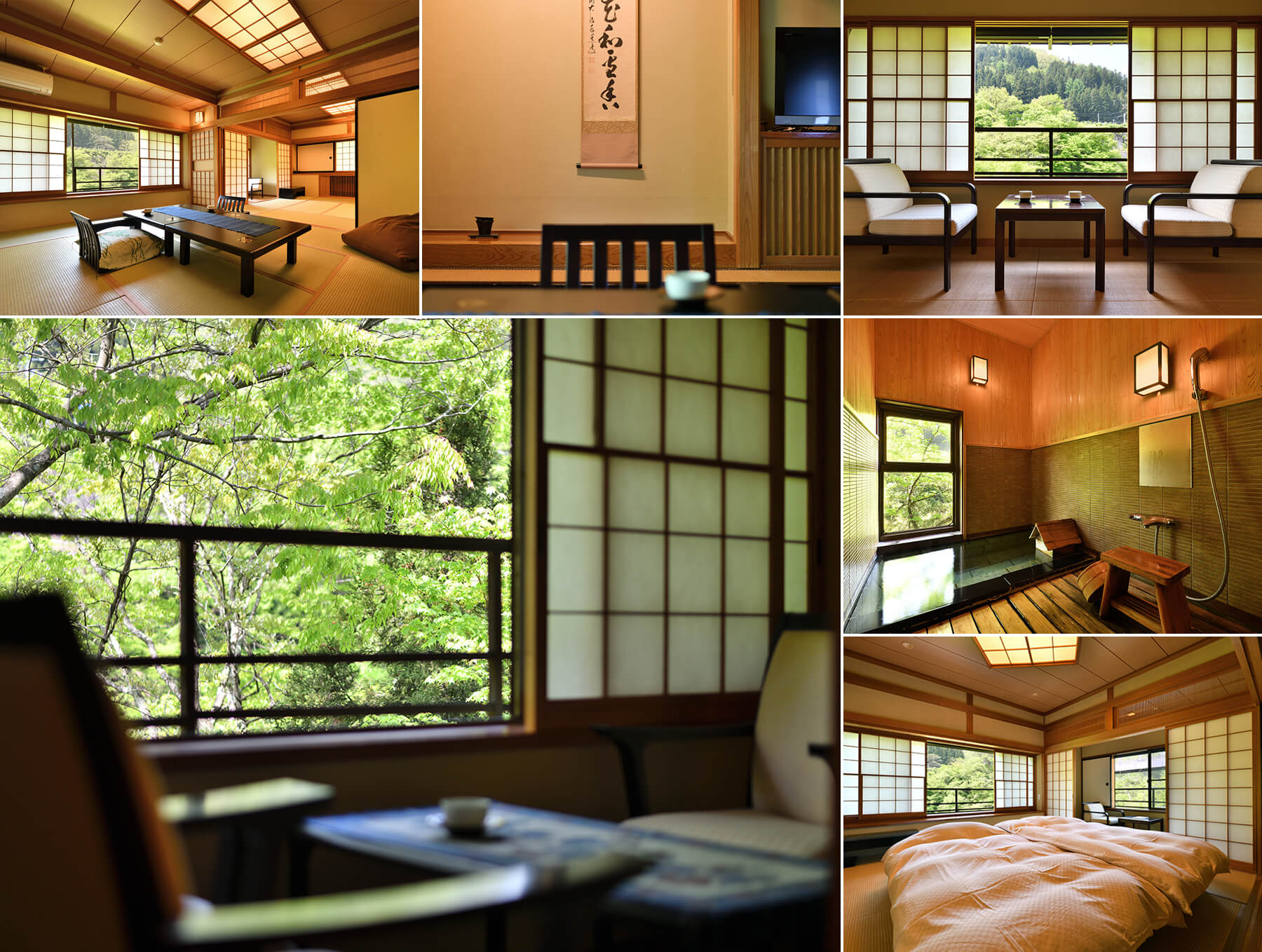 Guest room
A total of 12 rooms are like a detached house by Aizu architecture.
All rooms are equipped with hot spring baths with "Yunokami Onsen hot water" pouring from the source.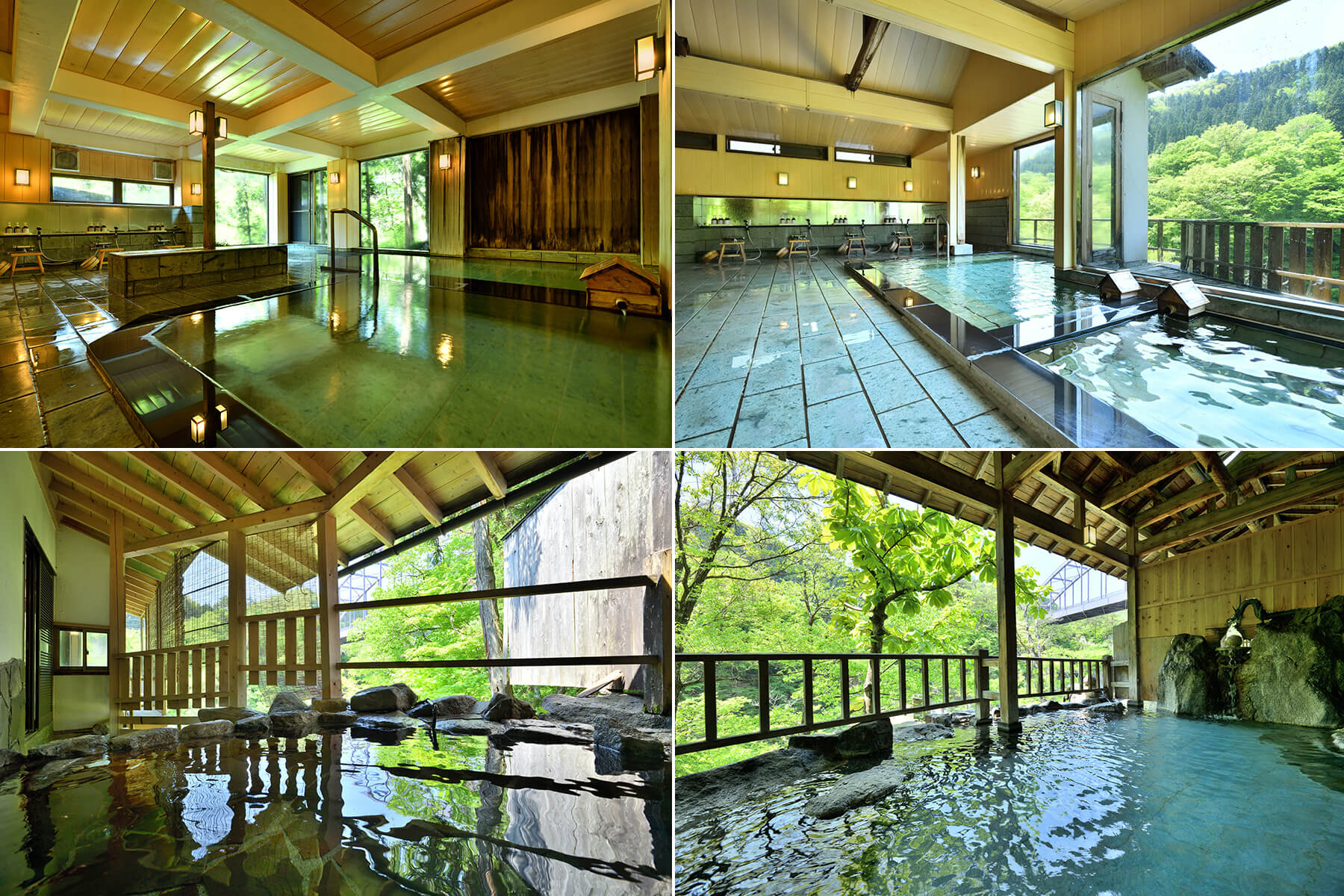 Yunokami Onsen
Dating back to the Nara period (710-794), Yunokami Onsen is said to have healed wounded monkeys.
The hot spring water gushes out at a rate of 200 liters per minute, and is poured into all bathtubs at the inn, including the private open-air baths, large baths, open-air baths, and the private baths in guest rooms, all of which are free-flowing.
During your stay, enjoy the mildly alkaline hot water with a pH value of 8.2, which is gentle on the skin.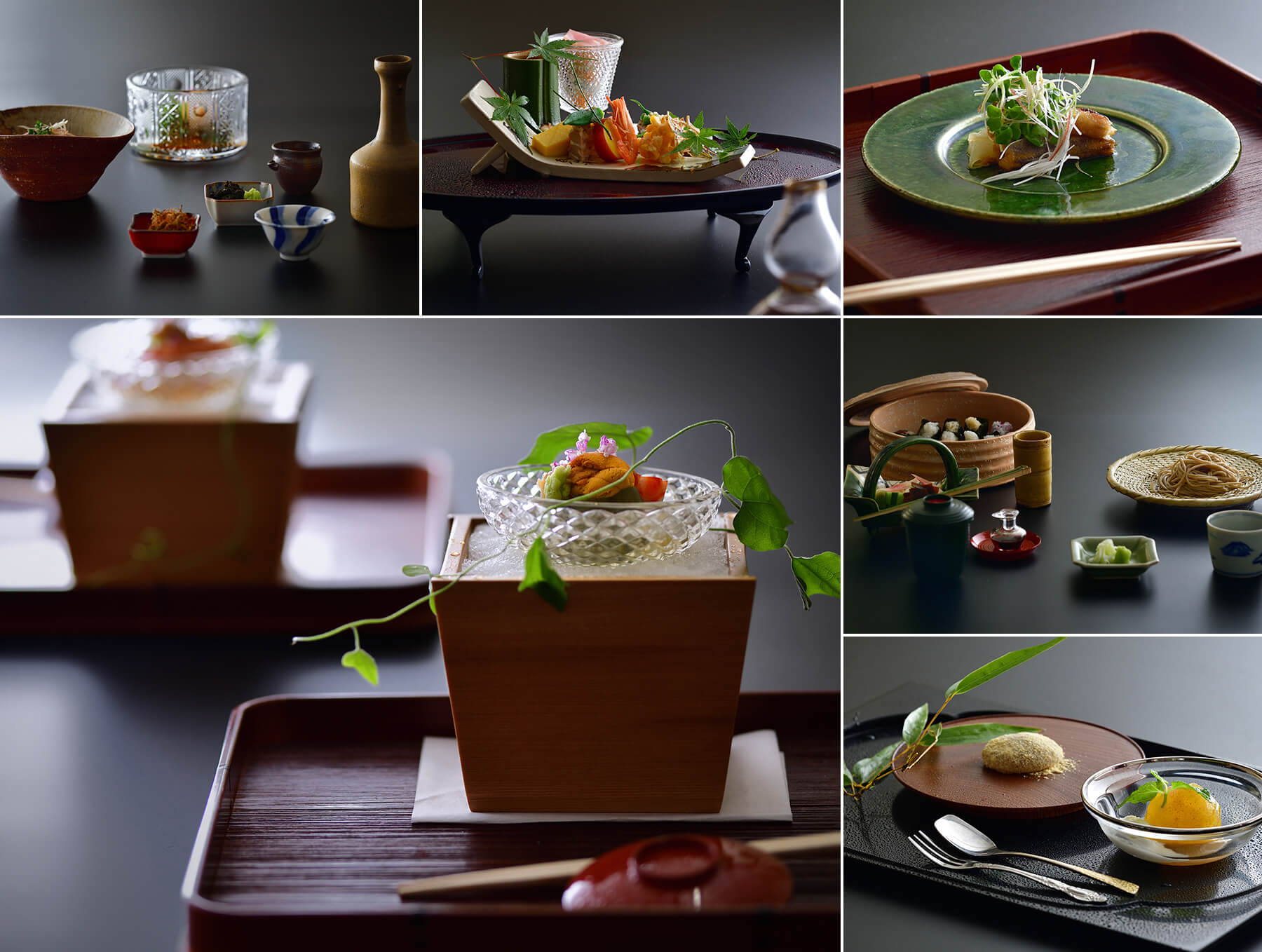 Cuisine
An inn withcuisine that go well with sake.
As you know, this area, with its clean water, is a rice and sake producing area.
A number of local sake brands such as Tobiketuki, Daishichi, Sharaku, Tenmei, and Aizu Musume, as well as carefully selected sake from all over Japan, are available, selected by the hotel's resident sake connoisseur.
And we also offer delicious Japanese dishes that go well with sake.
Please ask for a local sake pairing set, starting with the local delicacies "Nishin Sansho Zuke and Tofu Misozuke" and ending with a locally brewed sake pairing set.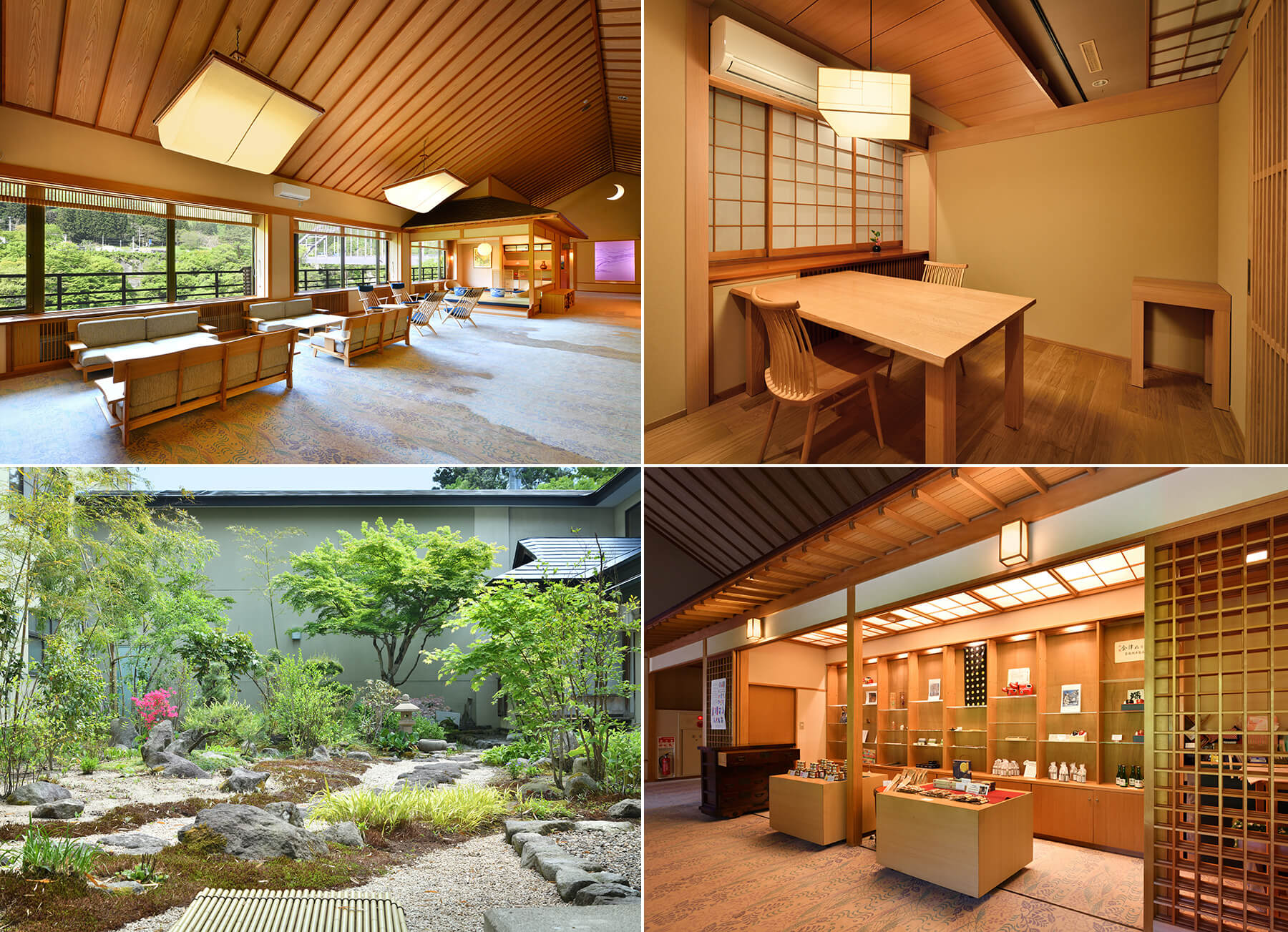 Facility
The Lobby Lounge, with its panoramic view of the Okawa River valley beyond the windows, welcomes you with a welcome drink of matcha green tea.
Both dinner and breakfast will be served in a private dining room where you can enjoy your feast in privacy.
The store offers a variety of goods, including small articles made of Aizu cotton, a traditional craft of Aizu, and lacquer ware chopsticks from "Memoriyama Kobo," a brand established by young craftsmen.
There is a courtyard where you can take a stroll after taking a bath. Enjoy the seasonal scenery of spring flowers, green bamboo in summer, autumn leaves in fall, and snow in winter.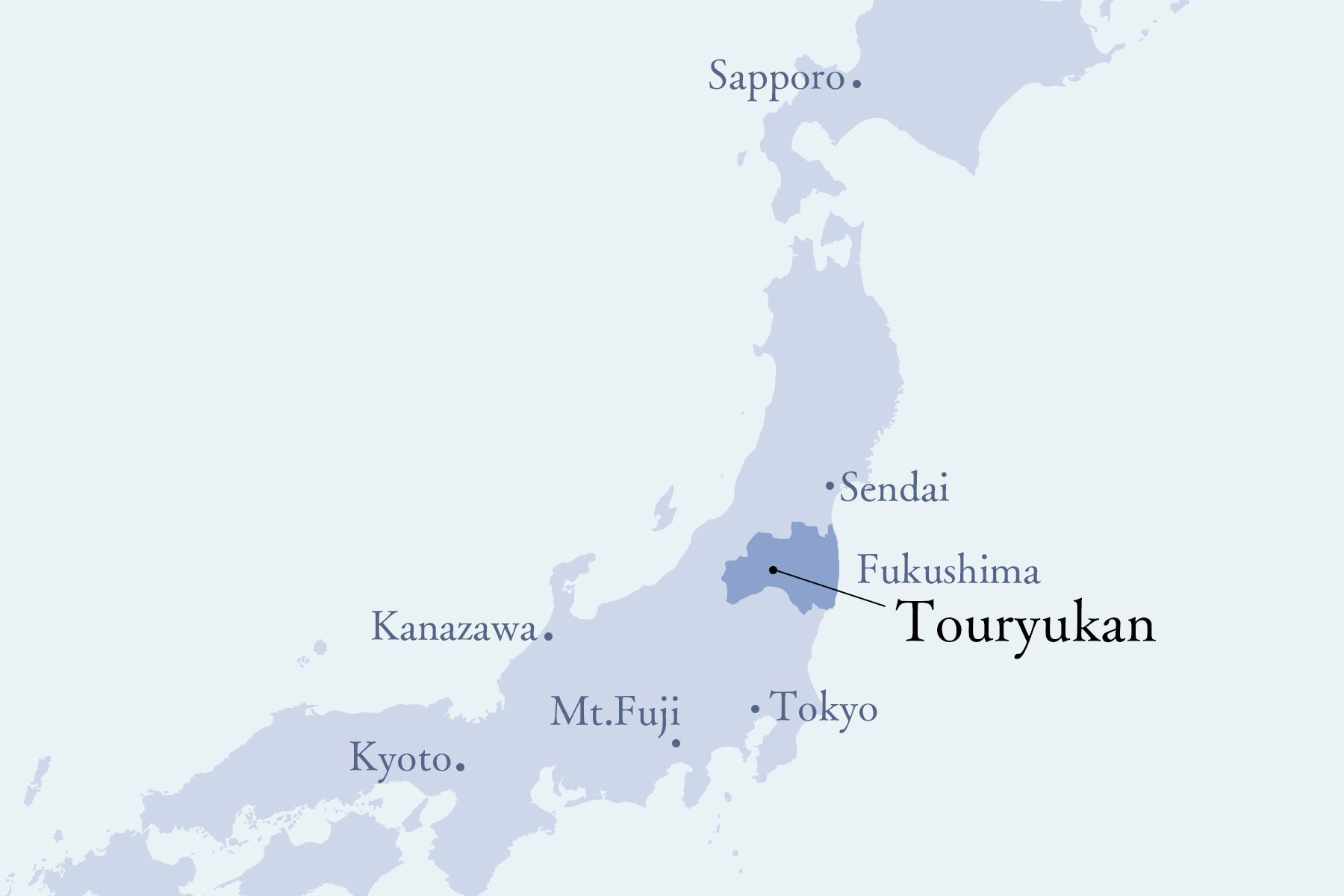 Access
Our inn, "Touryukan" is located along the "Okawa Valley" that flows through Aizu and Yunokami Onsen.

By train
Tokyo Station / Tohoku Shinkansen (1hr 20min) → Koriyama Station / Ban-Etsu-Nishi Line (1hr 10min) → Aizu-Wakamatsu Station / Aizu Railway (40min) → Yunokami Onsen Station / 10min walk / 3min free pick-up / 3min cab → Touryukan
Asakusa Station / Tobu Railway → Shimo-Imaichi Station / Liberty Aizu → Aizu Tajima Station / Aizu Railway (25 min) → Yunokami Onsen Station / 10 min walk / 3 min free pick-up / 3 min cab → Touryukan
Sendai Station / Tohoku Shinkansen (50 min) → Koriyama Station / Ban-Etsu-Nishi Line (1 hr. 10 min) → Aizu-Wakamatsu Station / Aizu Railway (40 min) → Yunokami Onsen Station / 10 min walk / 3 min free pick-up / 3 min cab → Touryukan
From Tokyo/Sendai / Tohoku Shinkansen → Shin-Shirakawa Station / free pick-up (1 hour), reservation required

Tobu Railway's official website

By plane
Osaka Itami Airport / ANA (1hr 5min) → Fukushima Airport / Limousine Bus (40min) → Koriyama Station / Ban-Etsu-Nishi Line (1hr 10min) → Aizu Wakamatsu Station / Aizu Railway (40min) → Yunogami Onsen Station / 10min walk / 3min free pick-up / 3min cab → Touryukan
Sapporo New Chitose Airport / ANA (1hr 20min) → Fukushima Airport / Airport Car Rental (1hr 15min) → Touryukan

Free shuttle bus
It takes about 1 hour from "Shin-Shirakawa Station" to our hotel by free shuttle bus, which takes about 2 hours and 30 minutes in total (fare: 6,790 yen for a reserved seat).
It takes about 25 minutes from "Aizu Tajima Station", which is directly connected from Asakusa by "Liberty Aizu" limited express train, to "Yunokami Onsen Station" of Aizu Railway, which is a 10-minute walk to our inn.
There is a free shuttle bus service to JR Shin-Shirakawa Station. If you wish to use this service, please make a reservation at least one day in advance.
Pick up
From Tokyo/Yamabiko 209 Departure from Tokyo: 12:12 → Arrival at Shin-Shirakawa: 13:36
From Sendai/Yamabiko 140 Departing from Sendai at 12:44 → Arriving at Shin-Shirakawa at 13:51 (Transfer to Nasuno 276 at Koriyama)
Drop off
To Tokyo/Yamabiko 212 Departure from Shin-Shirakawa 12:51 → Arrival in Tokyo 14:16
To Sendai/Nasuno 257 Departing from Shin-Shirakawa at 12:36 → Arriving at Sendai at 13:37 (Transfer to Yamabiko 49 at Koriyama)
*We will be waiting for you near the ticket gate of "Shin-Shirakawa St." according to your arrival time.
*The departure time of the shuttle bus from Shin-Shirakawa Station may be after the arrival of "up" buses from the Sendai direction.
*The next day, the departure time from the hotel will be around 10:30-10:45.

By car
From the Shirakawa IC, the navigation system may show the prefectural road "No. 37 Hatoriko Line", but this road has many curves, so please use the new national road "No. 289 Kouji Road".
It takes about 2 hours from JR "Fukushima Station" in the prefecture and about 1 hour from the Koriyama IC on the Tohoku Expressway.
From Tokyo
Tohoku Expressway (1hr 45min) / Nishinasuno Shiobara IC → Route 400/121 (1hr 30min) → Touryukan
Tohoku Expressway (2 hours) / Shirakawa IC → Route 4, 289, 121 (1 hour) → Touryukan
From Sendai
Tohoku Expressway (2 hr. 30 min.)/ Koriyama Minami IC → Route 47, 29, 118, 121 (1 hr.) → Touryukan
From Niigata
Banetsu Expressway (1 hr. 30 min.)/Aizuwakamatsu IC → Route 118/121 (50 min.) → Touryukan